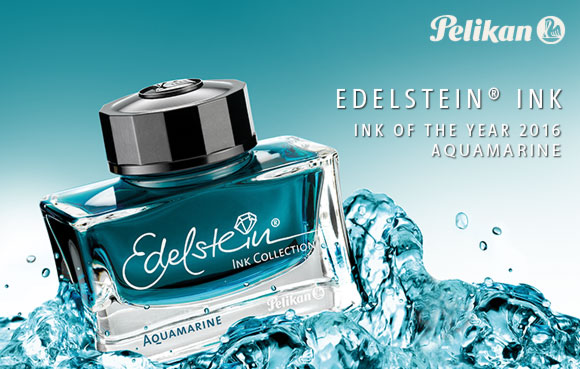 We are very happy to send you today our first Pelikan newsletter in 2016. Just like in the past, we would like to present to you new products and to provide you with interesting information regarding our Pelikan Fine Writing Instruments. We are looking forward to an exciting year 2016 with a lot of wonderful new products. We are pretty sure that everybody will find the right match.
2016 starts from Pelikan side with colorful and inspiring new products in our Pelikan ink collection. Therefore we dedicate this newsletter to our fabulous ink products. One highlight in 2016 will be the Edelstein ink color of the year Aquamarine! The intense turquoise-blue color gives a joyful holiday feeling with green-blue ocean impressions. Let yourself be charmed by the flowing aquamarine and other new ink products from Pelikan.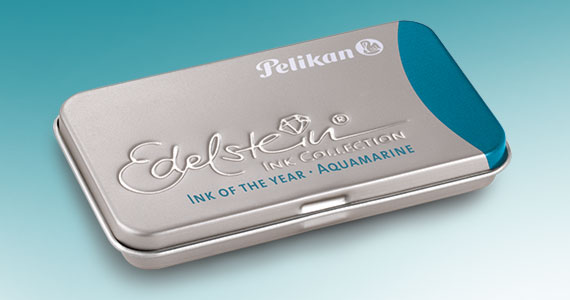 Our new Edelstein Ink of the Year Aquamarine is neither blue nor green; it's exactly in between. A mixture of someting exquisite, serene and full of power. This fascinating shade was chosen by our Facebook fans and will be available as a Edelstein ink flacon and as cartridges in an attractive metal box in spring 2016!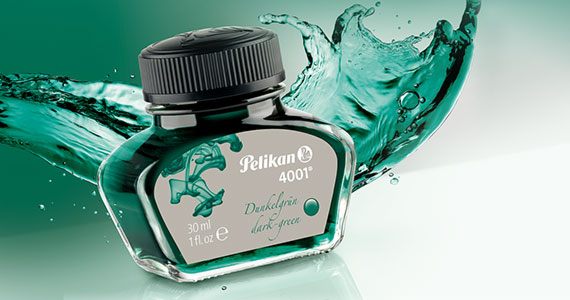 The 4001® ink is a well-established brand by Pelikan from the very first beginning of the company. It was first mentioned in a price-list from 1897 and proved its worth within all the years. Ink 4001 ® is one of the rare brands that was registered as a number only, and as such, it is already special! You as Pelikan fans often wrote about your wishes for an intense dark green ink. Therefore we're now proud to present to you our beautiful new ink 4001® dark-green! It is available in stores since January 2016!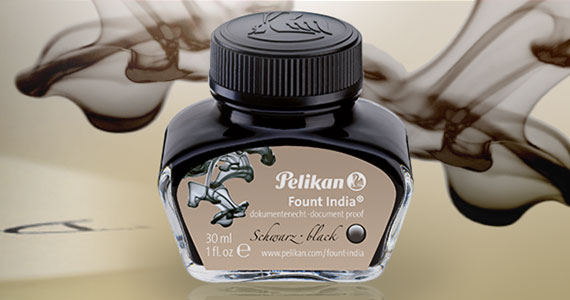 In addition to our water based ink we also offer a document proof ink. The ink "Fount India" is opaque and light resistant. Therefore this ink is particularly suitable for artworks or important documents that should not fade over the years. This ink can be used with piston fountain pens also, as long as you make sure that the ink never dries out.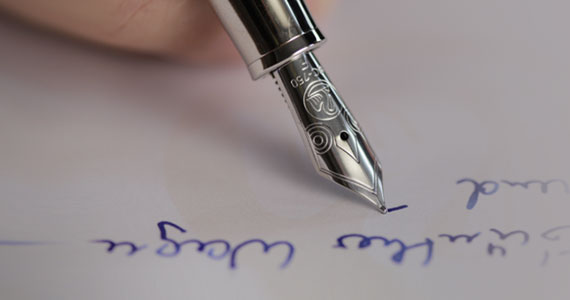 Thank you very much for sharing your ideas! Referring to our last Newsletter we asked you to tell us your thoughts and wishes regarding the Pelikan newsletter! We are overwhelmed by the number of emotional and inspiring e-mails we received. We really appreciate your involvement and ideas, so we will take care about it within the next following newsletter creation.
We hope to enthuse you with our newsletter of Pelikan Fine Writing in 2016 as well!
Visit us also on: www.pelikan.com/exklusive